Lorene & Quentin
Students
We're enjoying learning to dance with Ashley and Adam- the lessons are fun, well-structured, and personalized. Ashley and Adam obviously love dance. They are upbeat and professional, and take our lessons and our progress seriously. We have never taken dance lessons before, and now are feeling more confident with ballroom and latin dances.
Diana Farquhar
Student
I've never been one to follow an exercise plan but Lakeside Dance has provided me with the perfect exercise in dance lessons. Not only do I really enjoy the lessons but I'm also feeling more fit than I have in years! Thank you Adam and Ashley for your encouragement and excellent instruction!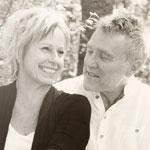 Bruce & Janice
Students
Having never been proficient on the dance floor and fearing embarrassment in trying, it was on the urging of my wife that we signed up for formal dance lessons. We were fortunate enough to have Ashley be our instructor. Her knowledge and grace on the dance floor, coupled with an unparalleled enthusiasm to teach has made our experience enjoyable and positive. What started as an experiment has become a hobby that will give us many years of pleasure.