The Elegant and Graceful Waltz
The Waltz is one of the most popular Ballroom dances of all time. It is considered to be the mother of present day dances. Waltz dancing developed in Germany in the 17th century, and is now popular all over the world. The Waltz is a smooth and graceful dance, often referred to as the "princess dance". Learning how to Waltz is an essential step in becoming a great social dancer.
Characteristics
The Waltz is characterized by its long, gliding steps. Dancers appear swift, and effortless in movement. Waltz develops control and balance through its rise and fall action. The music of Waltz is written in a unique time signature known as Waltz time, or 3/4 metre. Waltz dancing is counted as 1-2-3.
Popular Waltz Music
Funny Familiar Forgotten Feelings – Tom Jones Tennessee Waltz – Anne Murray At This Moment – Michael Bublé
Related Dances
Foxtrot is a popular social dance with similarities to the Waltz. Proper posture and smooth movement are of the essence of Ballroom dancing.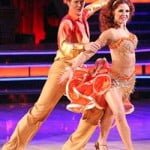 The Samba is often referred to as the Brazilian Waltz. Samba contains many popular Waltz steps, but without rise and fall.