The Fun and Upbeat Swing
The Swing is a spot dance with a carefree and relaxed style, enjoyed by most people. There are many iterations of the "Swing dance", including: Rock and Roll, Jitterbug, Jive, Lindy Hop, Charleston, East Coast Swing, West Coast Swing, Carolina Shag, and others. East Coast Swing and Jive are considered "Ballroom Swing" dances, and are two of the most popular styles of Swing dancing today. The various speeds of Swing music are excellent training tools for quick footwork, which will help to add comfort and ease in most other rhythm dances. After practising the steps for Swing, both men and women will find Swing to be a fun and exciting dance to learn.
Characteristics
The most common form of Swing dancing, East Coast Swing, is characterized by its triple-step patterns with syncopated timing. Swing dancing is casual and energetic in appearance, and lots of fun to dance. Swing music is often written in 2/4 or 4/4 time, and can be counted as 1,2,3-and-4,5-and-6.
Popular Swing Music
All I Do is Dream of You – Michael Bublé It's About That Walk – Prince Smack Dab in the Middle – Joe Williams
Related Dances
Foxtrot is considered to be a Ballroom Swing dance, and the music is written in the same time signature as Swing, but with a more mellow rhythm.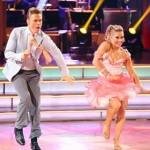 The Jive is a very high energy dance that is difficult to master. It is danced to the quickest tempo Swing music.