The Powerful and Dramatic Tango
Tango began in Argentina in the 1890s, and later travelled its way to the rest of the world. Most believe, the well-known Rudolph Valentino's production "The Four Horsemen of the Apocalypse" brought this passionate dance to life. Tango remains a unique Ballroom dance with staccato footwork, and fluid, graceful movements. Tango is a much sought after dance style, developing precise leading and following skills.
Characteristics
Tango is a passionate and bold dance form that has a dramatic and sensual tone. Its unique, sharp footwork and attractive dance frame are some of the Tango's highlights. Tango songs can be written in 2/4 or 4/4 timing, and the dance is counted using slow and quick steps.
Popular Tango Music
La Cumparsita – Gerardo Matos Rodríguez El Choclo – Nat King Cole Tango d'Amor – Vicky Leandros
Related Dances
Foxtrot and Tango are both travelling Ballroom dances. Both dances are great for developing partnership and musicality.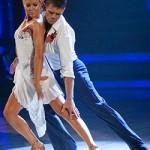 Rumba is the origin of Latin dancing. Learning the skills and partnership of Rumba is essential for good Cha Cha dancing.